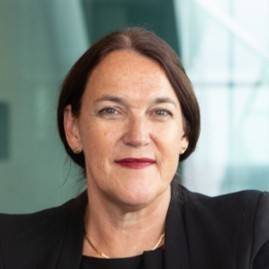 Prof.dr. Nancy Kamp-Roelands is a professor non-financial information, integrated reporting and assurance at the University of Groningen. She contributes to research and (postgraduate) education at the University of Groningen on transparency on sustainability in annual reporting.

She is a by Royal NBA certified public accountant specialized in integrated and sustainability reporting and related assurance and brings a combination of experience with large multinational clients, (inter)national standard setting, teaching and research. She finalized in 2002 a PhD "Towards a framework for auditing environmental reports".

Nancy was also a member of the Framework Panel of the International Integrated Reporting Council till 2021. In the period 2009-2011she was a member of the executive board of the Prince of Wales Accounting for Sustainability Project developing the concept of integrated reporting and establishing the International Integrated Reporting Council.

Nancy was the chair of UNCTAD-ISAR's Corporate Responsibility Indicators project, which resulted in related guidance for annual reporting in 2008. In 2021 she wrote a main agenda paper on transparency on climate change for the annual UNCTAD-ISAR conference.

As a member and chair of the Sustainability Working Party of the European Federation of Accountants (now Accountancy Europe) she wrote from 1996 some of their discussion papers on environmental and sustainability reporting and assurance.

In the Netherlands she wrote for the Dutch Accounting Standards Board the first version of the Guide to Sustainability Reporting and for the Dutch Auditing Standards Board she was involved in the writing of the first version of the Dutch Standard NV COS 3810N Assurance engagements related to sustainability reporting.